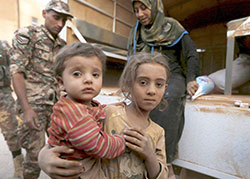 By Natalie Hoefer, Criterion
The two small children and their parents were exhausted as their plane landed in Indianapolis at 7:30 p.m. on Dec. 7.
These were not the average tired travelers coming home from a tourist trip. This was a family arriving to their new home, ready to start a new life in a new country.
This was a family of refugees, leaving behind all they owned in war-ravaged Syria, ready to finally settle in the United States after a three-year wait to be welcomed.
Flor Bickel, senior immigration consultant for the archdiocese's Refugee and Immigrant Services (RIS), assisted the family at the airport.
"They were so tired, and the children were sleeping in their arms," she said. "But there was so much hope in their eyes."
(Note: The photo above does not depict the family recently resettled in Indianapolis. They remain, as all clients do, anonymous.) Syrian refugee children covered with dust arrive on Sept. 10 at the Jordanian border with Syria and Iraq, near the town of Ruwaished, which is close to Amman, Jordan. A Syrian family arrived in Indianapolis on Dec. 7. The husband, wife and two children fled their war-torn country three years ago due to the violence. (CNS photo/Muhammad Hamed, Reuters)